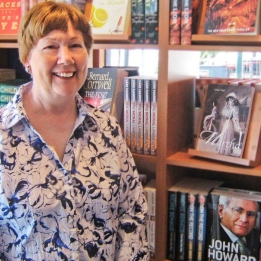 After enduring fifteen years of abject poverty and misery Patricia Milner finally left her alcoholic husband and rented a ramshackle cottage with her two children and a Jackdaw named Jackie. Jackie, a small black crow, had fallen down their chimney and simply couldn't be left behind.
Read more




On 3rd May 2011 I attended An Introduction to Australian Book Publishing course hosted by Australian Publishers Association and presented by Richard Smart.
The course was comprehensive covering the creation of a book from conception to editing, production to publicity and sales. There were 10 topics, each presented by a specialist from the big publishing houses.
So, what did I learn? Well, I learnt that I fair knowledge when it comes to the creation of books. I was the only attendee from a small publishing company. Most were employed by the big publishing houses and their roles were specialised, e.g. Production Assistant, Assistant Editor, sales and marketing. As a result they often knew their roles very well, but not that of the rest of the staff or the importants of each role in the book creation process. On the other hand, I had been involved in the entire process. I had:
~ Chosen a manuscriptFresh off the press.
~ Edited the manuscript, working directly with the author
~ Outsourced proofreading of the manuscript
~ Typeset and layout of text
~ Purchase of ISBN and barcode
~ Cover design (outsourcing my ideas to a graphic designer for creation)
~ PDF creation for submission to printer
~ Liasing with the printer
~ Liasing with Australian Book Group for distribution
~ Publicity
~ Sales and Marketing
I am not extraordinary. This is the role of the small publisher. We provide a different role and service to the big publishers. As a result we release (a lot) less books but each book is a joy and nothing beats the thrill of hosting a book launch or seeing your book/s on the shelf in a book store.
Trish Radge
Radge Publishing