Travel SouthEast Asia – Places we Visited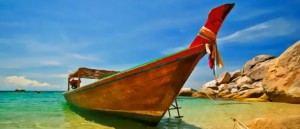 Des Gettinby outlines the places he and his wife, Barb, travelled on their journey through SouthEast Asia. Des wrote about his adventures in his humorous travelogue, Budget Travel Secrets – SE Asia
Bangkok You must have an onward ticket before you enter Thailand. Thirty day visas are issued at no charge on arrival. Extensions are available or just cross a border and reenter Thailand to get another thirty day visa.
Most popular areas for budget travellers to stay in Bangkok are either Siam Square (close to the Sky Rail) or the even less expensive Banglamphu (Khao San Road), which is further out of the city centre.
Hua Hin is a relaxing beach town and most of the night life centres on the colourful Chatchai night markets, held in the centre of the town.
Phuket and Patong Thailand's largest island at fifty kilometres long and twenty-one kilometres wide and connected to the mainland by the Sarasin bridge, which was built in 1967.
The island has seventeen sandy beaches. The most familiar of these is Patong, which is recognised as one of the world's top ten diving sites. Patong is maybe more famous for its nightlife than the beautiful two kilometre stretch of sand.
Krabi is a popular rock-climbing centre and is the port servicing the nearby Andaman Islands. Nearby Ko Phi Phi has attracted the title of most popular island in Thailand.
Ko Lanta Island 30 km long and 6 km wide, with nine white sandy beaches along the sunset coast on the Andaman Sea.
The coastline has more that seventy small islands with forests, coral reefs and abundant under-water life. A glorious tropical island not overdeveloped – yet.
Hat Yai Hat Yai's major claim to fame, and perhaps reason for existence, is the railway yard where the east and west lines from Malaysia join to form a single track to Bangkok. Commercial interests have developed because of this.
Penang The second smallest state in Malaysia but the eighth most populous.
Penang State encompasses the island itself plus part of the mainland.
Butterworth (the military centre) is the major port on the mainland, across from Georgetown. Georgetown has Chinatown as its traditional 'Old Quarter' and Little India squeezes itself amongst the streets of Chinatown and offers Indian cuisine at its best.
Batu Ferringhi Renowned for its status as a resort town with the Hotel Rasa Sayang being voted, in 1985, 'Best hotel in the world' by the British Tourism Organisation.
The beach location sports hotels such as Holiday Inn, Golden Sands, Park Royal, etc.
Hanoi Home to more than three million people, located on the Red River and speckled with soothing lakes. Vietnamese dong and American dollars are accepted everywhere.
The area around Hanoi has been inhabited for at least 3,000 years and the people are overwhelmingly honest and good-natured. Hanoians tend to be forward-looking, down-to-earth and very hard-working, particularly the women.
Ha Long Bay This body of water covers 1,500 square kilometres and has 1,969 limestone islands, each topped with thick jungle vegetation. 989 of these islands have been given names.
Several of the islands are hollow, with enormous caves, and two of the bigger islands have permanent inhabitants along with tourist facilities including hotels and beaches.
Hue is recognised as a World Cultural Heritage Site by UNESCO in 1993 and has become a big and invaluable museum.
This city is an important centre of Buddhism with pagodas built 300 years ago still in existence.
Hoi An Thirty kilometres from Danang – Originally known as Faifo, this antique town is bordered on its southern side by the Thu Bon River. Despite the fact that it is now a tourist haven, the artistic atmosphere and friendly local people make Hoi An special.
Nha Trang This coastal city has 300,000 inhabitants and retains its small town atmosphere.
The town is flanked by 10 km of beautiful beaches and the average temperature is 26 degrees centigrade.
A great place to have a beach break, and offshore islands offer some of the best diving in Vietnam.
Mui Ne Famed for its enormous sand dunes, these visits need to be made away from the midday sun. Sledding down on sand boards is a thrill not to be missed.
Home of the famous Nuoc Mam, the fish sauce sold all over Vietnam to add spice to dishes. It ferments in huge terracotta jars along the sides of the road.
Thirty kilometres out of Mui Ne is the longest reclining Buddha in Vietnam, with a height of 11 metres and a length of 49 metres. The Buddha is on a hilltop 100 metres above Mountain Pagoda, and if climbing is too much like hard work, visitors can take a gondola ride through the beautiful rainforest to reach the site.
Saigon Ho Chi Min city, of which Saigon is the centre, is the largest city in Vietnam and is close to the Mekong River delta.
The large city area is called Ho Chi Min City, but the urban centre is called Saigon. A little bit confusing, but the central train station is marked Saigon and 'Ho Chi Min City' doesn't seem to be used very much at all. Even airport signs show 'Saigon'.
Phnom Penh in Cambodia has a population of 1.4 million, principally Buddhist.
Siem Reip – very hospitable. The people are kindly and gentle, and less forward and pushy during our usual night-time walk around shops and cafes. Here we see some splendid state-of-the-art hotels with rooms up to $2,000 a night. Plenty of budget accommodation available at $12 per night.
Kampot The provincial capital of Kampot Province, located near the base of the Elephant Mountains on the Prek Kampong River.
Quiet streets, few tourists and with smatterings of French Colonial and Chinese architecture.
Sihanoukville on the Gulf of Thailand, was founded in 1964 to be the only deep-water port in Cambodia and its beaches are popular as tourist destinations.
This place is the Mecca for the young. Accommodation can be had for free when one drinks or eats at the attached bar. Very tempting to the young backpacker, and parties on the beach to dawn are often of the 'drink till you drop' variety.