Recipe for Budget Travel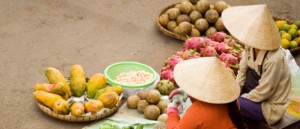 Budget Travel Secrets – SE Asia
What Tour Operators Don't Want You to Know
By Des Gettinby
Recipe for budget travel
Take:
6 kilos of clothes
1 small onboard size backpack
$25 a day
Return air ticket
Add a good mate
Mix with a healthy dose of humour
Bake for 4 months in SE Asia

Des Gettinby is not your average retiree. In fact his life is upside down! At 70 he set off backpacking through SE Asia for 4 months with his wife, Barb. Budget Travel Secrets – SE Asia is a humorous rendition of their adventures. Filled with tips and tricks to save you money, whilst still enjoying accommodation with ensuite bathroom, the book is an inspiration to travellers, both young and old.
"This trip was either going to break up my 25 year marriage with Barbara, or make it stronger", says author, Des Gettinby. "We decided to step right out of our comfort zones and the results were amazing. In fact the trip could have been sponsored by the health department. We came back leaner and healthier and with a stronger relationship than before we left."
Des Gettinby has a wonderful sense of humour, seeing the fun in everyday Asian life. His descriptions of people and places are tantalizing, including tales of both turmoil and treasured moments. Des is often referred to as "Australia's answer to Bill Bryson".
Des will encourage you to face your fears; simply pack (light) and go.
"I could not put this book down," said Wally Cook, a retiree from Lindfield, NSW. "I doubt I will get the chance to travel overseas again at my age, but I loved the book so much that I am giving copies to all my family for Christmas."
A humourous travelogue with budget tips and tricks: a perfect recipe.
Budget Travel Secrets – SE Asia is available  on Kindle